So you're ready to buy some cryptocurrency. Maybe you've been reading up on blockchain technology and you're convinced it really is the future. Or maybe you watched a friend get rich off Bitcoin and you're still kicking yourself for not doing the same. There are multiple ways and multiple places where you can buy bitcoin or any other cryptocurrencies, different options may depend on your country of residence but there is something for everybody. Use of blockchain technology and growing acceptance of cryptocurrencies, along with recent technological developments made it relatively easy for everyone to acquire cryptocurrencies. Here is a list of most popular services offering access to world of cryptocurrencies:
COINBASE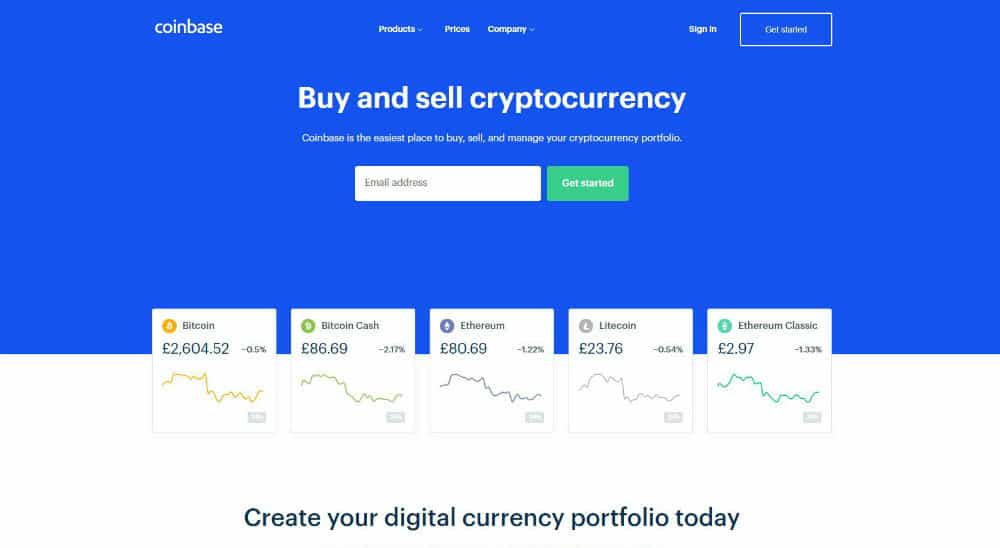 If you are the beginner and just getting started with cryptocurrencies, Coinbase is one of the world's premier cryptocurrency exchanges and wallet platforms allowing people to buy multiple cryptocurrencies using direct conversion from fiat money (USD/EUR/GBP). Launched in San Francisco in 2012, Coinbase operates in many countries and has served millions of customers to exchange billions in digital currencies. By 2013, Coinbase was the highest funded Bitcoin startup as well as the largest exchange of cryptocurrency in the world. Unlike other exchanges that require users to trade on a market, Coinbase allows users to trade their cryptocurrency at a set price that is based on their market value, which allows users to purchase their cryptocurrencies faster than other exchanges. You will need to first create a Coinbase account, all you need is your name, email address, and password. Once completed email address confirmation, you will be redirected to the startup page, where you will be first requested to confirm whether you want to create an individual or business account. The next step is verifying your phone number and ID. The reason for this is to create a form of two-factor identification in order to ensure that your account remains secure (there are other forms of two-factor verification available). Coinbase allows customers to choose from multiple payment methods – bank transfer, credit card or PayPal. Bank transfer transactions may take some time, while credit and debit card transactions are instant. Once you have funds in your account you can buy currency. Once a transaction is confirmed, the amount of cryptocurrency that you have purchased will be credited to the relevant Coinbase wallet – you can now transfer it to any other wallet you intend to use for storage.
BINANCE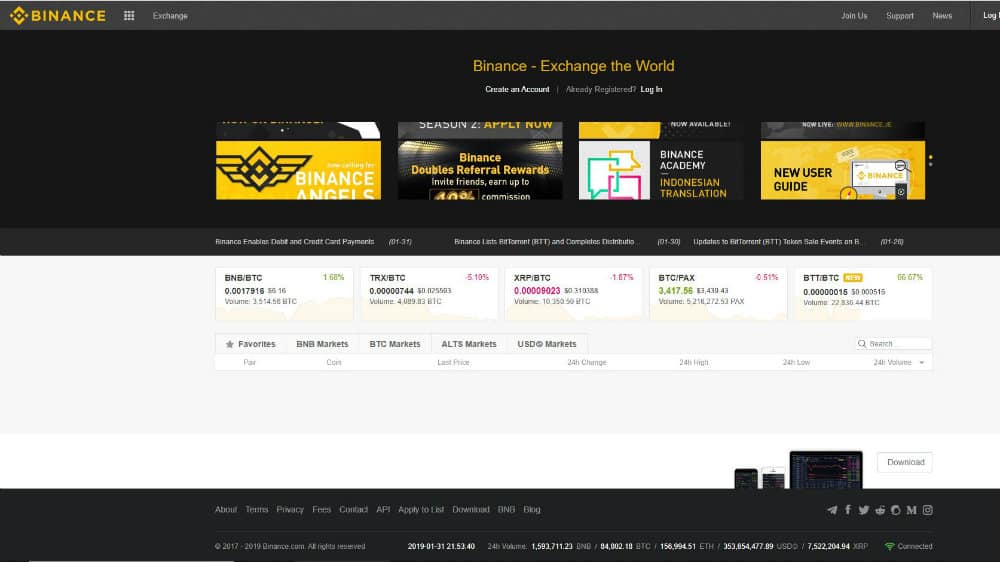 Binance is a cryptocurrency exchange. In fact, it's the largest one in the world by means of traded volume and it is fast becoming the number one choice for US / UK and European cryptocurrency investors. While the exchange supports predominantly digital assets, it also allows fiat-to-crypto trading in selected regions also partnered with Israel-based payments processing firm Simplex to enable purchases with Visa and MasterCard credit cards. The platform has a basic and advanced settings which caters perfectly for the newbie trader and the seasoned pro. Binance even has its own coin / token (BNB). This was created during the ICO event to fund the development of the Binance exchange. You can trade all the major coins, just like Coinbase but with even more trading pair options. You can trade BTC, ETH, LTC, BNB, XVG, NEO, TRX and many many more. Trading fee is 0.1% Overall this exchange is user-friendly, trustworthy and is growing in popularity daily.
CEX.IO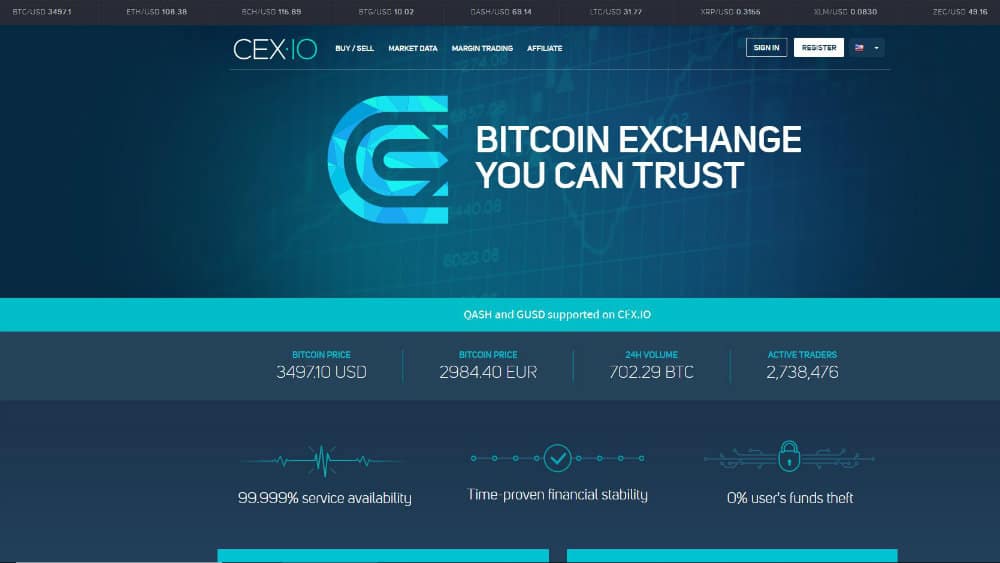 Created in 2013, CEX.IO became the first-ever cloud mining and multi-functional virtual currency exchange with a client base of more than 1 million. This exchange provides a cross-platform application for trading through a website, mobile technology, WebSocket computer communications protocol, and Representational State Transfer (API). It facilitates instant purchases and selling of cryptocurrencies using an easy bundle interface. The company built a multi-tier account mechanism that novices and experienced traders can use without difficulty. CEX.io also offers international coverage, several payment options, and round the clock technical support with confirmed stability for data protection. CEX.IO plans to add more coins to its stock although each currency must pass a stringent check and due diligence before acceptance. Security prevents accidental leakage of clients' private information to unauthorized parties. Cex.io adopted the Payment Card Industry Data Security Standard or PCI DSS which enforces an information security benchmark for entities that control credit cards to limit access to fraud. While the corporation's registration applies to the United Kingdom, it also maintains business status at the United States Department of Treasury's Financial Crimes Enforcement Network. CEX.IO employs two-factor authentication and anti-hacker safeguard. The utilization of multiple signature addresses helps reinforce the security of accounts. To ensure that the company can answer all inquiries, it employs a team of efficient and well-trained customer service specialists working 24/7 all year round. CEX.IO realizes the need for website interface to guarantee a perfect user experience for all its patrons.
KRAKEN

The United States-based Kraken exchange also operates in Japan, the United Kingdom, and European Union member-states. Industry experts call this company one of the largest BTC exchanges worldwide both concerning liquidity and euro volume. Kraken conducts oversight of claims for the Mt. GOX fiasco for US$450 million worth (2014) of lost Bitcoins. Last year, the exchange included trading began to offer ETH Dark Pool Trading which allows discreet orders without disclosing anything to the public. The Dark Pool of Ether provides strategic alternatives for professional merchants. At the start of 2017, ETH trading volume increased considerably on Kraken's facility. This kind of trading conceals orders so traders can sell or purchase massive quantities (50 BTC and 2, 500 ETH as a minimum) without other participants knowing their intentions. Kraken added six pairs of dark pool currencies which include ETH for BTC, EUR, USD, CAD, GBP, and JPY. This service provider provides pricing of BTC to the Bloomberg Terminal, software for PC that the financial data firm offers allowing the financial services sector and other industries to access the Bloomberg Professional enterprise. Through this service, end-users can keep track of and evaluate real-time economic market statistics on the electronic trading system. Said platform supplies news items, price estimates, and messaging across its safe network. Kraken is a very viable and efficient cryptocurrency platform with multiple helpful features for day traders specifically in Europe.
GEMINI

The famous twins who Cameron and Tyler Winklevoss founded Gemini two years ago. Many people describe Gemini as one of the most-connected enterprises in the virtual currency domain. CBoe Global Markets, the US firm that owns BATS Global Markets, an operator of an international stock exchange in Kansas and Chicago Board Options Exchange in Illinois, partnered with Gemini for its Bitcoin futures ventures. Although it contains cutting-edge features, customers can look forward to the fast and effortless experience. Regarding security, it provides the usual functions such as two-factor authentication, a requisite for all financial accounts. Gemini explains to customers' security precautions transparently. Gemini supports the US Dollar, Bitcoin, and Ether which indicates the facility's capacity to build slowly but robustly. The company earned the name, US BTC exchange but its adoption of ETH trading hints at the gradual unveiling of other dominant currencies within the next few years. It opened up to additional countries although Gemini only uses this fiat currency for trading, deposits, and withdrawals. Unlike some other exchanges like Bitfinex, Gemini does not have direct Bitcoin to United States Dollar so customers must opt for Tether (USDT).
BITPANDA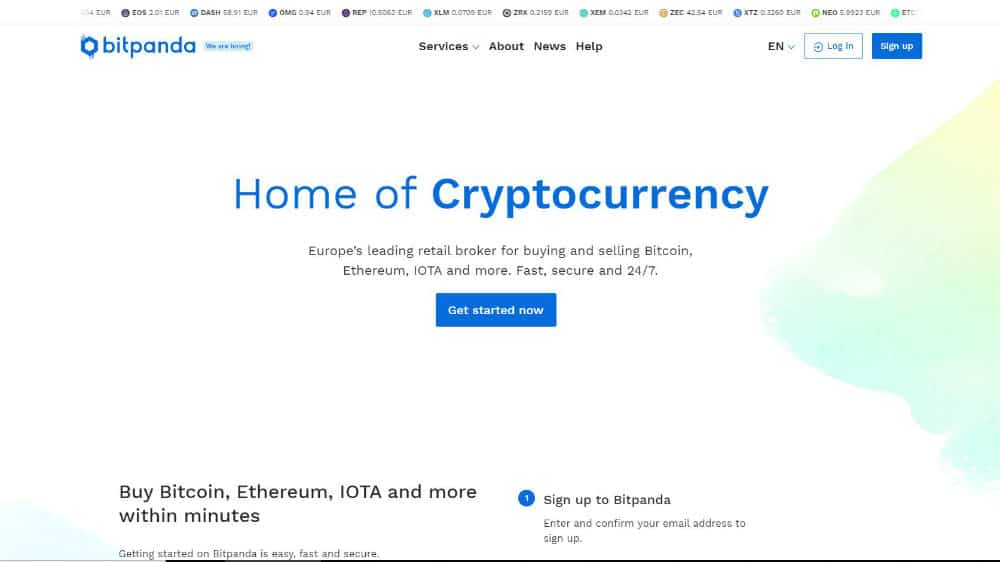 A European exchange which enables users to pay in EUR, GBP, CHF and USD through a variety of payment platforms. Bitpanda makes buying and selling cryptocurrency quick and easy through a credit card, bank transfer and several payment options. Bitpanda, which began as Coinimal in October 2014, offers services worldwide. It is a fully automated platform, as soon as payment is confirmed, the coins are automatically sent to the buyers. Bitpanda has quickly emerged as one of Europe's most popular cryptocurrency brokers.
COINMAMA

Coinmama was established in 2013 in Israel and has since grown to serve over 1m customers in over 180 countries with over 30 employees. Today the company is registered in Slovakia while still owned and headquartered by New Bit Ventures in Israel. It allows its users to create their own wallets and start buying or selling digital currencies by connecting with their bank accounts, credit or debit cards and mobile money accounts. It also offers institutions and professionals the ability to trade a variety of digital currencies like Bitcoin, Ethereum, and more on a regulated exchange.
P2P SERVICE – LOCAL BITCOINS

Buying Bitcoin with cash can be as simple as giving money to your friend in exchange for BTC. For those who don't know anyone with BTC (or anyone that wants to sell), there are decentralized, p2p sites to meet with people. LocalBitcoins works worldwide as an advertising community board for users to agree on a price beforehand, and then meet in person to trade. It might take a lot of time to process the exchange process, and it might not seem trustworthy enough, as it involves strangers, but it is still popular and has great reviews from users. It is technically a decentralized platform because it involves p2p trading. No middlemen are used to mediate the deal – which means no fees are paid at all. LocalBitcoins is such an effective option that you could theoretically complete an entire money transfer at no cost. Even if you don't get a deal that good, you could realistically walk away with a low-cost money transfer that's completed in as little as an hour.
All above exchanges have inbuilt online wallets to keep the cryptocurrency when purchased. However, it is advised not to keep your crypto holdings on the exchange, you have the option to either use a paper wallet service like myetherwallet.com or hardware wallet. Both serve the purpose of removing platform risk, at the cost of taking up the responsibility of keeping your cryptocurrency safe.